This was our second time to Arpora in Goa and first to this hotel Jan/Feb 2009. What a fabulous time we had. The hotel - especially the exterior - does need a lick of paint and some general maintenance, but ignore this and you can't go wrong. Our room was cleaned daily by a young lad who was so helpful and friendly.

We had clean bedding and towels every day - and he made intricate displays with the towels - a different one for each of the 28 days we were there - the best 2 being the crocodile and the 2 swans.

Breakfast is fruit juice, toast and jam with tea or coffee but it is waiter service and is far more preferable to the awful breakfast buffet scramble you get at most hotels.

It is adequate but you can order more if you wish. The food at dinner - was 1st class - we only ate dinner outside the hotel twice the whole time we were there. Yes the service was a little slow but what was there to rush for?. We ate out every night under the stars and enjoyed every minute.

The staff were great - I can't praise them enough. If you want to get out and about there are plenty of taxis available to take you wherever you want to go. It is about 30 minutes walk to Baga beach but if you want somewhere more relaxing get the drivers to take you to the beaches further north. .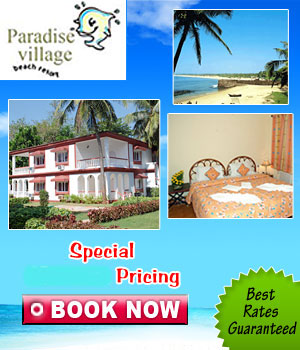 The Abalone Resort is situated in Arpora, a quieter area behind Baga Beach with an abundance of birdlife. Arpora is less commercialised with a lot of local activity taking place, quiet enough to relax but close enough to Baga not to bore.
The scenery around the property is lush and green; lots of coconut trees and paddy fields with several eating places, other hotels, international phones plus the internet and local provisions stores.
Taxis and rickshaws are easily available; Anjuna is a 10-15 minute ride, Baga takes just 5, or a very pleasant walk will take approximately 20 minutes.
The hotel has a good-size, L-shaped swimming pool, and sunbeds and patio tables and chairs are arranged around the pool-side with a small outdoor plus indoor multi-cuisine restaurant.
Safety deposit boxes are available at reception, payable locally.
Gorbhat, Arpora, Goa, 403 518, India