community we feel sure you will like it here. The unique Portuguese & Mediterranean architecture will leave you spell bound. Situated in the ever popular Calangute Beach in Goa, India,

Casa De Goa offers you a peaceful serene ambience for you to relax and rejevunate your spirits. Come fall in love with Goa. Goa has a timeless charm…. Its uniqueness lies in the fact that whilst creating a delicate synthesis of various cultures, it has retained its inherent soul.

Goa certainly is a land of dreams & romance… a timeless world of gentle hospitable people & unhurried activities. Casa De Goa give you the best of Goan hospitality and makes you feel at home. With its personalized services and the rich blend of experience its personnel has to offer, Casa De Goa gives you a peaceful and special .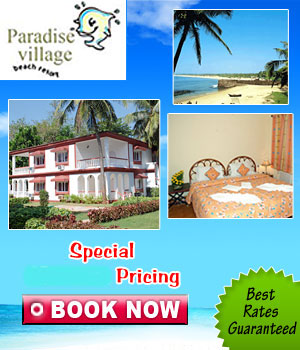 Period

Deluxe

Suite

Casinhas

April 25th 2010
June 15th 2010
3000/-
3500/-
4000/-
June 16th 2010
September 30th 2010
2000/-
2500/-
3000/-
October 1st 2010
December 22nd 2010
4500/-
5500/-
6500/-
December 23rd 2010
January 3rd 2010
10000/-
11000/-
12000/-
January 4th 2011
March 31st 2011
4500/-
5500/-
6500/-
April 1st 2011
June 15th 2011
3000/-
3500/-
4000/-
Extra person 12 years and above is Rs.900/- per night with an extra mattress in a DLX room. Extra person in Suites/ Cottages is Rs. 1200/- with a bed.
Children between 6 – 11 yrs is Rs.500/- per night with a mattress. Below 6yrs will be accommodated at no extra cost.
27th December, 2010 - 2nd January, 2011 : Extra person - Dlx room - Rs. 2,000/-, per night, with a mattress. Suite/ Cottage - Rs. 3000/-
Child 6 - 11 yrs - Rs. 1,500/-, per night, with a mattress.
Compulsory Gala dinner for the X'mas 25th night is Rs. 2,000/-, per person and New Year 31st night is Rs. 3,000/-, per person. Child 3-10yrs – 80% would be charged.
Meal supplement is Rs.350/- per person, per meal (Lunch or dinner).
Taxes as applicable.
Check out 11:00 hrs and Check in 12:00 noon.
ALL RATES ARE SUBJECT TO CHANGE WITHOUT PRIOR NOTICE
Casa De Goa (Boutique Resort)
Tivai Vaddo, Calangute, Bardez Goa 403516
Tel: + 91(832) 2279999 / 2277777
Fax: + 91(832) 2279899
www.casadegoa.com
email:info@casadegoa.com