Nizmar Resort is located just 500 meters from the renowned Calangute Beach.

Here you can experience the true essence of Goa. Our resort is a home away from home.

You can choose from our 104 spacious & beautifully decorated A/C suites equipped with Telephones and CTV.
We aim to provide you unlimited leisure with unparalleled delight.

A holiday at Nizmar is an experience to savor, to relish and to treasure.
So come and enjoy your holiday and transform it into treasured memories. .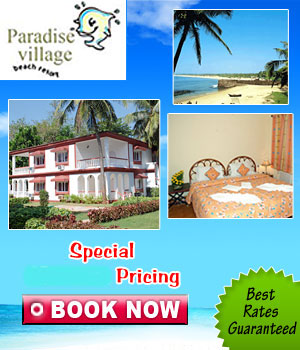 BED & BREAKFAST RATES 2009 - 10

Superior Deluxe suite / Family Deluxe Suite
Double
Single
Extra Adult
Extra Child
6 to 12 yrs
1st July to 30th September 2009

3,000/-

2,700/-

1,200/-

600/-

1st Oct '09 to 4th Nov ' 09

3,500/-

3,150/-

1,400/-

700/-

5th Nov '09 to 22nd Dec' 09

4,500/-

4,000/-

1,800/-

900/-

23rd Dec '09 to 27th Dec' 09

*

8,000/-

7,200/-

3,200/-

1,600/-

28th Dec '09 to 2nd Jan '10

*

10,000/-

9,000/-

4,000/-

2,000/-

3rd Jan '10 to 31st Mar '10

4,500/-

4,000/-

1,800/-

900/-
Naikawaddo, Calangute,
Bardex, Goa - 403516.
0832 - 6657777
0832 - 2275910

reservations@nizmarresort.com
nizmar@sancharnet.in

www.nizmarresort.com