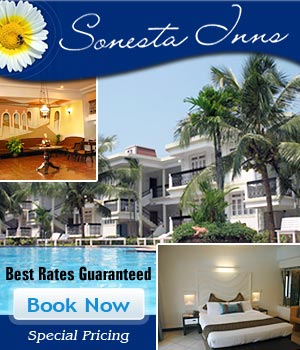 Osborne Holiday Resort Hotel in Goa
Situated in the heart of Calangute village, approx. 700 mts from the beach and 12 kms from the capital city of Panjim, Osborne Holiday Resorts stands out for it's unique ambience, homely atmosphere and cosy hospitality. It's repeat clientele, who use the resort year after year, stands testimony to this fact.

It's special features and location are designed to make your stay as comfortable, enjoyable and exciting as possible..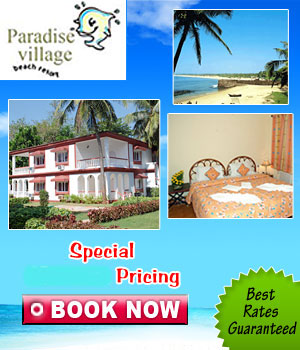 TARIFF for A/C and NON-A/C Standard Rooms
ROOM ONLY BASIS

F.I.T. Rates

Double
Non A/C

Double A/C

Period

Rs.

UK £

Rs.

UK £

1st Oct 07- 15th Dec 07

1200

15

1600

20

16th Dec 07 - 15th Jan 08

3000

38

4000

50

16th Jan 08- 31st May 08

1200

15

1600

20

01st Jun 08- 30th Sep 08

750

10

1200

15

Extra Bed / Mattress
Rs. 750/- / UK £ 10
English Breakfast - Rs. 160/-
Indian B/fast - Rs. 100/-

Make an -
The OSBORNE

TARIFF for SUPERIOR A/C Rooms with Television
ROOM ONLY BASIS

Double A/C Suites

Double A/C Rooms

Period

Rs.

UK £

Rs.

UK £

1st Oct 07- 15th Dec 07

3000

38

2500

31

16th Dec 07 - 15th Jan 08

6000

75

4500

56

16th Jan 08- 31st May 08

3000

38

2500

31

01st Jun 08- 30th Sep 08

1600

20

1600

20

Extra Bed / Mattress
Rs. 950/- / UK £ 12
English Breakfast - Rs. 160/-
Indian B/fast - Rs. 100/-
OSBORNE HOLIDAY RESORTS
Near St. Anthony's Chapel Gauravaddo, Calangute, Bardez,
GOA - INDIA, 403 516
Telephones: 91-832-2276514
Fax: 91-832-2276046
E-Mail: Osborne Holiday Resorts
http://www.osborneresort.com