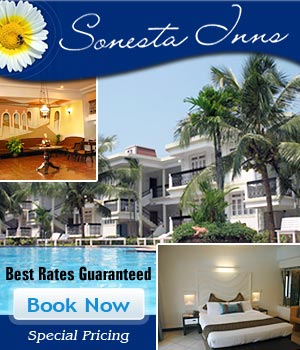 Resort Do Tio Carmino Hotel in Goa
Feel the ambience of Portugal in Goa. We have Tio's jazz pub & fast food counter.
Let the Fragrance last

Enjoy the relaxation near the Swimming pool taking a sun bath.
Beautifully furnished rooms (TV and phone if you like) will make your holiday Memorable.

Poolside bar and restaurant our hospitality will be remembered forever..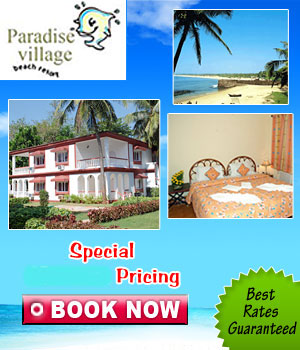 Non A/C
A/C
C.P. Non A/C
C. P. A/C
M.A.P. Non A/C
M.A.P. A/C
A.P. Non A/C
A.P. A/C
Taxes
1st Oct to
31st Oct
1500/-
2000/-
7000/-
8000/-
8000/-
9000/-
9000/-
10,000/-
Inclusive
1st May to
31st May
1500/-
2000/-
7000/-
8000/-
8000/-
9000/-
9000/-
10,000/-
Inclusive
1st Nov to
20th Dec
2000/-
2500/-
8000/-
9000/-
9000/-
10,000/-
10,000/-
11,000/-
Inclusive
6th Jan to
30th April
2000/-
2500/-
8000/-
9000/-
9000/-
10,000/-
10,000/-
11,000/-
Inclusive
21st Dec to
5th Jan
3500/-
4000/-
Nil
Nil
Nil
Nil
Nil
Nil
Inclusive
1st June to
30th Sept
700/-
1000/-
5000/-
6000/-
6000/-
7000/-
7000/-
8000/-
Inclusive
*Compulsory Gala dinner on 25th Dec and 31st Dec at the rate of Rs 1200 per person per event
Package rates are for a couple which includes accomodation for 3 nights,pickup and drop,two full day sight sightings and a boat cruise,meals as per selected plan,welcome drink and free use of swimming pool
1st June to 30th september,All packages will attract 4th night complimentary on room only basis
EXTRA PERSON ON A PACKAGE IS 35% OF THE RATE
CHILD BETWEEN 6 TO 12 YRS IS 25% OF THE RATE
EXTRA PERSON ON F.I.T BASIS IS Rs 500
EXTRA CHILD ON F.I.T BASIS IS RS 250

Resorte De Tio Carmino
Contact Details
Tel: +91-832-2281656
Mr. Xavier Fernandes( Director)
Mobile: +91-9921216346
Email: xavierfernandes86@gmail.com
Mr. Jose D'Souza( Gereral Manager)
AN ALFRAN ENTERPRISE
Beira Mar Alfran Resorts,
Saunta Vaddo, Baga Road,
Calangute, Bardez, Goa
Tel: +91-832-2281656
Mobile: +91-9822169473
Email:
josealfranresorts@rediffmail.com
jose2dsouza@rediffmail.com