As traditional hotels have become increasingly rare, we take great pride in maintaining our homely atmosphere and excellent value for money. This clean ,friendly and popular holiday home is situated in natural unspoilt area of Cavelossim, South Goa in the coastal belt of bustling Cavelossim-Colva stretch.

The nearest sandy beach, little settlement of Tamborim is a scenic walk along tall coconut trees, paddy fields and lush green vegetation. Its rustic little farm houses is surrounded by pig pens, goats, cows, chickens and other farm animals. Women and children still draw water from wells using clay pots. Opposite the holiday homes is a beach used occasionally by the Indian Navy for maneuvers, quite interesting to watch when they are at it!!!.

A short distance from the hotel is a marshland which attracts large variety of exotic birds, 75 species of which have been sighted by excited bird watchers who call it their paradise more so when they were awakened in the morning to the chirping of birds, an ornithologist dream..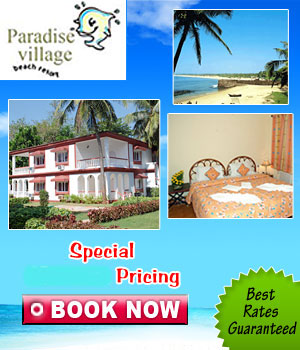 This wonderful little family-run guesthouse has quite obviously had hours of devotion given to it by Serafino and Purie, its proud owners. Serafino once told us that he had always wanted his own hotel and it was like a dream come true when he finally built it, complete with swimming pool and gardens.
The 'La Afra' outdoor garden restaurant and bar within the grounds attracts guests from some of the larger hotels due to the wide-ranging and delicious home-cooked dishes on the menu.
The Dona Sa Maria is situated opposite a section of beach which is very occasionally used by the Indian Navy for manoeuvres, which are interesting to watch whilst you sit back with that cool drink in the shade. The beach most popular with guests is a 1.5km or 15 minutes stroll (or a ride in Serafino's jeep!).
The walk down to the sands is actually through the village of Tamborim with its rustic farmhouses surrounded by snorting pigs, goats, cows, chickens, and all manner of rural goings-on! However, it bears little in common with 'The Archers' with the women and children lifting water from wells in clay pots.
Paddy fields and saltpans surround the guesthouse itself and the variety of birdlife in the area is quite unbelievable.
15
th
Oct 2007 to15
th
Nov. 2007, 15th Mar. to 30th April
£
48
/ $
98
per person per week with BB (Twin sharing)
Address : Tamborim, Cavelossim, Salcete, Goa, - 403 731
Phone : +91 0832 2745290 / 2745673
Fax : +91 0832 2871559
Website : www.donasamaria.com
Email : serafino@donasamaria.com, donasamaria@rediffmail.com
http://www.donasamaria.com/