Discover...Dona Sylvia Beach Resort.Spread over 26 acres of beautifully landscaped gardens on the southern coast of Goa, this 181 room 5-star resort nestles on the soft white sands of the Cavelossim Beach.

The Dona Sylvia Beach Resort blends the spirit of the Mediterranean with the warmth of Goa. The resort offers 181 superior air-conditioned rooms with all modern amenities in Mediterranean style villas with verandahs and roof-top terraces.

Walk along meandering pathways, as the sunlight passes playfully through the trees. Take in nature's bounty of green leaves and pink bouganvillea clinging onto the Mediterranean-style villas and cottages with verandahs and roof-top terraces.
.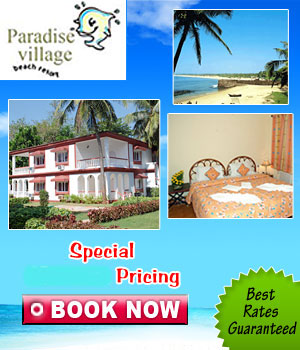 1st June '10

to

31st Aug '10

3 Nights/4 Days

Rs. 18,000
Rs. 7,000
Rs. 4,200
Rs. 14,500
Rs. 5,800
Rs. 3,500

1st Sept '10

to

30th Sept '10

3 Nights/4 Days

Rs. 19,000
Rs. 7,500
Rs. 4,500
Rs. 15,500
Rs. 6,200
Rs. 3,800

1st Oct '10

to

15th Oct '10

3 Nights/4 Days

Rs. 22,000
Rs. 8,500
Rs. 5,500
Rs. 17,500
Rs. 7,000
Rs. 4,300

Note: 30 Days Advance Booking with Minimum 3 Nights Stay
Dona Sylvia Beach Resort,
Cavelossim, Mobor,
Goa, India. 403 731
Tel: +91 - 832 287 - 1888
Fax: +91 - 832 287 - 1320
info@donasylvia.com
http://www.donasylvia.com