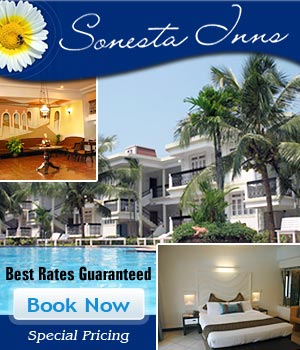 Silver Sands Beach Resort Hotel in Goa
SILVER SANDS BEACH RESORT is ideally located right on Colva Beach, the endless silver sand shoreline, surrounded by the warm azure blue Arabian sea. A dream location for honeymooners, holiday makers and business executives, bringing to you Goa at its natural best Colva Beach.

The Resort is about 22 Kms. from the Airport and 6 kms from Margao city, the commercial capital of Goa with railway station & interstate bus terminal..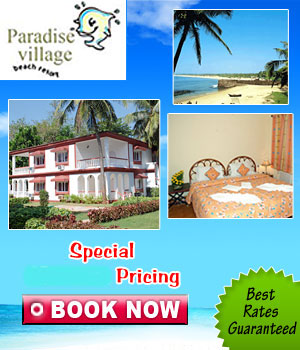 A perfect location for all the facilities pertaining in a dream site of every tourist, such as
Swimming Pool, Gymnasium, Health Club, Ayurvedic massages which provides luxury in your services. Other beneficial amenities Satellite Television, Sand-Pebbles-Multi-Cuisine Restaurant, Intoxication Bar, Cross road-Bar & Restarant serving grilled &Bar-B-Q ,Conference Hall (Seating arrangement- Theatre style-100 pax & U-shape-50 pax), In -house colour tatoo maker.Another crucial facilities such as ;Travel agency , Credit Card facility, Currency Exchange, Internet connection , shopping Arcade, Safe Deposite Lockors,Laundry, Doctor on call, Sight-seeing tours & Transfer facilities.
INTOXICATION BAR
This facility of ours is of free of cost for the guests who are in 'MAPAI'Package and the same is provided on Direct payment for those who are incurred as individule guests.
TARRIFF FIT PERIOD
Period/Room Type

Std. Dlx Room

Sup. Room

Suit

Extra Pax

Rs.

$

Rs.

$

Rs.

$

Rs.

$

1st Apr. 2010 to 30th Jun. 2010
1800
40
2100
48
2600
60
300
7
1st July 2010 to 30th Sept.2010

1500

35
1800
40
2400
55
200
5
1st Oct. 2010 to 21st Dec. 2010
3500
80
4000
90
4800
110
500
12
22nd Dec.2010 to 4th Jan. 2011
7700
175
8800
200
9900
225
1000
25
5th Jan. 2011 to 31st Mar. 2011
3500
80
4000
90
4800
110
500
12
* Luxury Tax applicable extra. *Above rates are on double occupancy & on room only basis.
Colva Beach, Goa - 403 708
Tel : 0832 - 2788099/100/102
Mobile no. 09326946101
Fax : 0832 - 2788021
Email : silversands@sancharnet.in, silversandsbeachresort@yahoo.co.in
http://www.silversandsgoa.com