BAIA DO SOL the Boutique Resort is situated on the confluence of Baga River with the Arabian Sea, on Baga Beach. The location, view and service are such that one instantly falls in love with it.

The proof of this is that maximum occupancy during the year is being taken up by repeat guests This company has already crossed 100 years of growth.

Like many Indian enterprises that have attained success and an iconic status, this company too had a humble start in the 1700s.Over the decade the Naik family grew more prosperous through its varied business dealings, all bearing the stamp of integrity and honesty.

The senior Naik, on who's name the company has been registered became a legend in his lifetime. Steadily and surely he worked to expand the business empire he had created from scratch..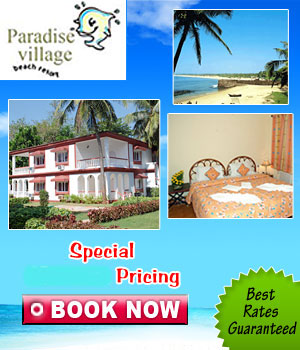 Dates
Sup. Deluxe
[River and Beach view]
Deluxe
[Sup. Garden / Pool View, sit-out / private
garden]
Standard
[RIver Facing Plaza
Room]
Twin Sharing
04/01/10 - 30/05/10
Rs. 7500/- + 10% tax

Rs. 4500/- ( incl. of B.F &Tax)

Rs. 5000/- + 8% tax

Rs. 3500/- (incl. of B/F & Tax)

Rs. 4000/- + 8% tax

Rs. 2625/- ( Incl. B/F & Tax)

Rs. 2000/- + 5% tax

Rs.1800/- (Incl. B/F)

01/06/10 - 30/09/10
Rs. 5000/- + 8% tax

Rs.4320/- ( incl. of B.F &Tax)

Rs. 3500/- + 8% tax

Rs. 2800/- ( incl. of B/F & Tax)

Rs. 2200/- + 5% tax

Rs. 1890/- (incl. of B/F & Tax)

Rs. 1800/- + 5% tax

Rs. 1575/- ( No. B/Fast.)


"Baia Do Sol" these portuguese words for sunny bay itself describes the location of this petite 22 room resort. Based on the bank of river Baga, an entry to a homely and friendly atmosphere.

A small version of heaven in North Goa. Cottages with coconut trees surrounded by lush greenery and gardens.

Each room has an attached bath with all time hot/cold water supply (Solar heating - eco friendly), intercom and television to add to your effortless comforts .

Special event management during the entertaining weekend evenings. A mini boutique, a small hall for trainings or Yogas or Meditation and private parties with all the required facilities. The classical and instrumental music gives the additional feel of being in the smallest and beautiful state of India.

Types of Rooms

Private Family Cottage
AC Deluxe (No. Room - 1)

Family Room
AC Deluxe (No. Rooms -18)

Twin Sharing
(No. Rooms - 2)

Baga Beach, Calangute - Goa, India. Phone : +91 832 2276084 / 2275482 Fax : 2276085 Regd. office. Goa Resorts, Post box No 136, Margao - Goa, India. Phone : +91 832 2740316 Fax : 2740287 E-mail : info@baiadosol.com http://www.baiadosol.com/contact_us.php