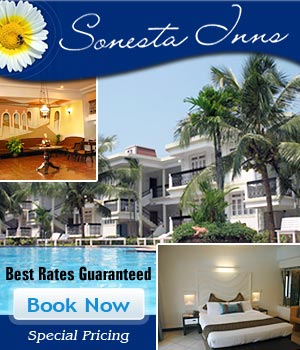 Paradise Village Beach Resort Hotel in Goa
Goa popularly known as the 'Riviera of the East', this fairy tale getaway abounds in both, natural scenic splendour and exquisite works of man.

A veritable treasure trove of golden sands and picturesque local homes, sparkling turquoise seas and wondrous ancient architecture, gently swaying palms and lush emerald fields.

An oasis of comfort and tranquility, the Village encompasses a myriad of luxurious facilities for your pleasure.

Plunge into the soothing waters of the large pool.Or soak in the sunshine on the little island that embraces it.While all around sandy shores serenade the dancing waves..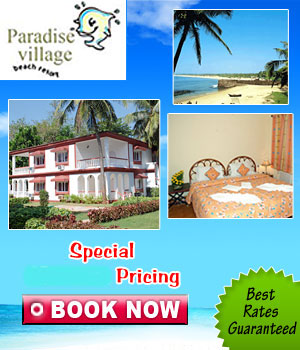 <![if !vml]><![endif]>

<![if !vml]><![endif]>

Room Tariff Rates 2010-2011

Period

A/C Studio
(INR Rates)

A/C Suites
(INR Rates)

A/C Beach Cottage
(INR Rates)

Double Occupancy

4th Jan To 31st Mar

3800/-

4800/-

5800/-

1st April - 31st May

3500/-

4000/-

4800/-

1st June - 30th Sept

2500/-

3000/-

3800/-

October

3500/-

4000/-

4800/-

1st Nov -20th Dec

3800/-

4800/-

5800/-

21st Dec To Jan 3rd **

8000/-

9500/-

10,500/-
The Beach cottage is built in a goan styled hut giving you the typical feeling of the goan comforts. It has one double bed, a well planned attached bath and toilet, fridge, cable tv, dressing table, A cupboard, split A/c and a phone.
It has a sofa-set. From the balcony of the cottage one can enjoy the beauty of the sea or just lay down out on the pool. The Restaurant is just a stone throw away from the cottage. The cottage has been specially designed for two adults only.
Tivai Vado,
Calangute Beach,
Bardez, Goa 403 516.
Tel. : 0832-227 6351/52/53/54, 227 6475/76, 3294394
Fax: 0832-227 6155
http://www.paradisevillage.org