Home away from Home, Welcome to Casa de Goa and to our Village of Calangute. It is a friendly community we feel sure you will like it here.

The unique Portuguese & Mediterranean architecture will leave you spell bound. Situated in the ever popular Calangute Beach in Goa, India, Casa De Goa offers you a peaceful serene ambience for you to relax and rejevunate your spirits.

Come fall in love with Goa. Goa has a timeless charm…. Its uniqueness lies in the fact that whilst creating a delicate synthesis of various cultures, it has retained its inherent soul..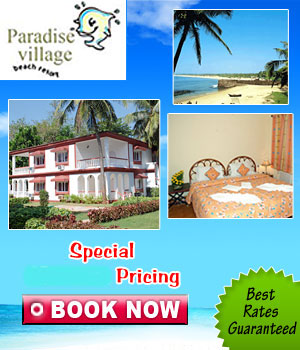 Avail of FREE Internet at the HOTEL

Period

Deluxe

Suite

Casinhas

April 25th 2010
June 15th 2010
3000/-
3500/-
4000/-
June 16th 2010
September 30th 2010
2000/-
2500/-
3000/-
October 1st 2010
December 22nd 2010
4500/-
5500/-
6500/-
December 23rd 2010
January 3rd 2010
10000/-
11000/-
12000/-
January 4th 2011
March 31st 2011
4500/-
5500/-
6500/-
April 1st 2011
June 15th 2011
3000/-
3500/-
4000/-
Casa De Goa in Goa is one of the ideal three star hotels in Goa which reflects the age old Portuguese influence . Its Portuguese décor that has a soothing Mediterranean touch is something to take note of.

It is indeed the prefect retreat in Goa that has everything to make your stay in Goa, memorable.

Accommodation :
The beautiful 38 rooms and 12 suites of Goa Casa De Goa are equipped with every modern amenity without which one can not expect to lead a pleasant routine life. Some of the commonly found in-room amenities are living plus dining area, mini bar, attached baths with shower, balcony, double beds, telephone, electric geyser for hot Water, refrigerator, Satellite cable network etc.

Casa De Goa (Boutique Resort)
Tivai Vaddo, Calangute, Bardez Goa 403516
Tel: + 91(832) 2279999 / 2277777
Fax: + 91(832) 2279899
www.casadegoa.com
email:info@casadegoa.com
http://www.casadegoa.com