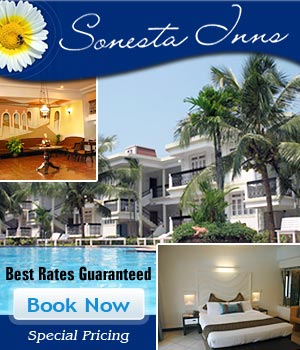 Holiday Inn Resort Hotel in Goa
The Holiday Inn Resort Goa is a Five Star resort located on the picturesque Mobor Beach in South Goa.

Set in expansive tropical gardens that run right down to the unspoilt sands of Mobor Beach, it has been built in traditional grandeur and has been designed to blend colonial extravagance with exotic surroundings.

Ideally located 17 kms from Margao and approximately 42 kms from Dabolim airport, this fabulous property is spread over 25 acres of prime beach.
Hotel Description:
Holiday Inn Resort Goa is one of the finest 5 Star Resort in Goa and is located on a virgin beach of Mobor ib South Goa. Situated in the vast landscaped property of 26 acre the hotel is like a beautiful mirage in Goa. The prime beach that is part of the hotel is one of the most important attraction in Goa. This kind of property is one of the most sought after because of the beach as it offers a great opportunity to watch the beautiful arabian sea at its romantic best in the night.

Accommodation in Holiday Inn Resort, Goa:
Hotel offer a total of 170 rooms and suites that have been categorized into sea, garden and pool facing rooms. Out of these rooms and suite one of a very special case is that of Kids room that have been specially made for families with kids. Treasure Island theme have been implemented with great perfection for having something for the kids in the room.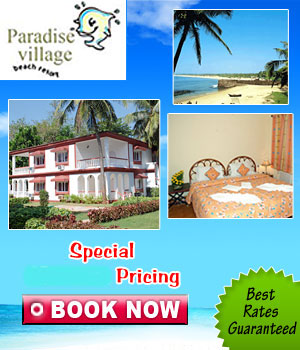 | Period | Category | Double INR | Double USD |
| --- | --- | --- | --- |
| 1st April 2010- 30th September 2010 | Plaza | | 132 |
| | Plaza pool view | 5800 | 145 |
| | Deluxe Room | 6800 | 170 |
| | Deluxe Sea Facing Room | 7800 | 195 |
| | Kids Suite | 8300 | 207 |
| | Garden Suite | 10800 | 270 |
| | Sunset Suite | 11800 | 295 |
| Period | Category | Double INR | Double USD |
| --- | --- | --- | --- |
| 1st October - 31st October 2010 | Plaza | | 210 |
| | Plaza pool view | 8900 | 222 |
| | Deluxe Room | 9400 | 235 |
| | Deluxe Sea Facing Room | 10900 | 272 |
| | Kids Suite | 11500 | 287 |
| | Garden Suite | 14400 | 360 |
| | Sunset Suite | 15400 | 385 |
| Period | Category | Double INR | Double USD |
| --- | --- | --- | --- |
| 1st Nov. 2010 - 21st Dec 2010 | Plaza | | 255 |
| and | Plaza pool view | 11200 | 280 |
| 5th January 2011 - 31st March 2011 | Deluxe Room | 12200 | 305 |
| | Deluxe Sea Facing | 13200 | 332 |
| | Kids Suite | 14500 | 362 |
| | Garden Suite | 16200 | 405 |
| | Sunset Suite | 17700 | 242 |
| Period | Category | Double INR | Double USD |
| --- | --- | --- | --- |
| 22nd Dec. 2010 - 27th Dec. 2010 | Plaza | | 350 |
| | Plaza pool view | 15250 | 381 |
| | Deluxe Room | 16000 | 400 |
| | Deluxe Sea Facing | 17000 | 425 |
| | Kids Suite | 18500 | 462 |
| | Garden Suite | 20000 | 500 |
| | Sunset Suite | 24000 | 600 |
| Period | Category | Double INR | Double USD |
| --- | --- | --- | --- |
| 28th Dec. 2010 - 4th January 2011 | Plaza | | 625 |
| | Plaza pool view | 26250 | 656 |
| | Deluxe Room | 28000 | 700 |
| | Deluxe Sea Facing | 29000 | 725 |
| | Kids Suite | 30500 | 762 |
| | Garden Suite | 32000 | 800 |
| | Sunset Suite | 36000 | 900 |
MOBOR BEACH,
Cavelossim, Salcette,
Goa - INDIA. 403 731
Tel: Direct: +91 832-6484677,Board line +91 832 -2871303
Fax: +91 0832 - 2871333
EMAIL: sales@holidayinngoa.com
http://www.holidayinngoa.com