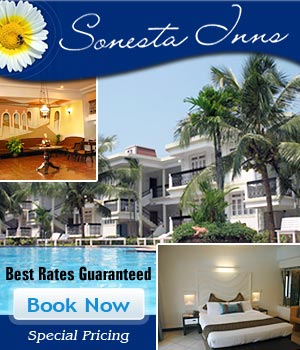 Hotel La Paz Gardens Hotel in Goa
Hotel La Paz Gardens provides the traveller comprehensive facilities and personalised services.The guest rooms and deluxe suites are designed to offer you gracious hospitality, the perfect blend of convenience and comfort.
RESTAURANTS

Anything you order at Hotel La-Paz Gardens comes with a generous serving of hospitality.The food,the wine and the ambience will make the meal and the moment memorable.

'Sweet-n-sour' is our Chinese restaurant serving the legendary Chinese cuisine with all its delicate flavours. You can explore a whole new world of delicious tastes. The Restaurant has its own bar with a touch of class.

The Regency has perfected the art of dining adding its own special flavour to make your evening memorable. The inspired chefs at the Regency dish out Continental, Indian and Goan cuisine. The restaurant has its own bar to give your spirits a lift!

Goodyland is our fast food and snacks speciality
shoppe, very popular with the young generation.
It serves a wide variety
of snacks, cakes, pastries, pizzas, sandwiches, chocolates and Indian sweets..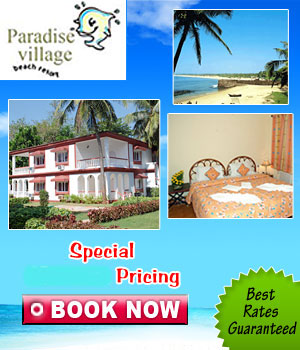 TARIFF
European Plan
( All Rooms Air Conditioned )
Tariff Rates
Except for the period 15th December '09 to 15 January '10
on Bed and Breakfast basis

Indian Rupees

SINGLE

DOUBLE

Standard Rooms

1500

1900

Premium Rooms

2000

2500

Executive Suite

3100

3600

Deluxe Suite

4100

4600

Additional Person
Rs. 500/-
SERVICE CHARGES
10%
LUXURY TAX
as applicable
Rates effective from 15th December '09 to 15 January '10
on Bed and Breakfast basis
except for 25th Dec'09 and 31st Dec 09


SINGLE

DOUBLE

Standard Rooms

2000

2500

Premium Rooms

3100

3600

Executive Suite

4100

4600

Deluxe Suite

5100

5600

Additional Person
Rs. 500/-
SERVICE CHARGES
10%
LUXURY TAX
as applicable

Group Rates available on application
Rates effective from 25th Dec'09 and 31st Dec 09


SINGLE

DOUBLE

Standard Rooms

2750

4000

Premium Rooms

3850

5100

Executive Suite

4850

6100

Deluxe Suite

5850

7100

Additional Person
Rs. 500/-
SERVICE CHARGES
10%
LUXURY TAX
as applicable

Group Rates available on application
Our postal address is
Hotel La Paz Gardens
Swatantra Path, Vasco-Da- Gama
Goa - 403802, India
Phone: 91-832-2512121 to 2512126
Fax: 91-832-2513302
Email: info@hotellapazgardens.com lapaz@bsnl.in
http://www.hotellapazgardens.com