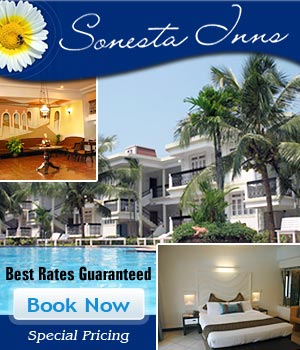 Kamat Holiday Homes Hotel in Goa
As part of Kamat Inns Pvt. Ltd., we extend to you the privilege of enjoying two of the most sought after names in Goan Hospitality. Hotel Nova Goa, in the heart of Panjim City & Kamat Holiday Homes, at Calangute - the world famous beach.

Kamat Holiday Homes, a sister concern of Hotel Nova Goa, is the Luxury Beachside Resort of the famous Kamat Inns Pvt. Ltd., barely less than 1 km. from the famous Calangute Beach. Calangute is the number one beach side destination in India.

When people say Goa, they invariably mean Calangute. Come over to Kamat Holiday Homes and allow the Goan winds to take care of your mind, body and soul..
The Phase-I of the resort is the main complex, consisting of 12 buildings arranged in rectangular shape. At the center of this rectangular complex is the main activity/recreation center with 2 swimming pools, gymnasium, Indoor games- (Carrom, Darts, TT etc.), Badminton Court, Jacuzzi, Steam-bath, Barbecue Counter, restaurant and lush-green lawns. Behind this complex is a small church.Just behind the church, there are 2 modern buildings with a swimming pool.This is Phase-II of Kamat Holiday Resort.

Both the complexes (Phase-I or Phase-II),are thus separated by a small building of a church, but from any of the complex,the other is not directly visible. Phase-I has all the recreational activities and it is the original resort.

But the Phase-II has good modern rooms,separate pool and all guests staying in Phase-II can enjoy all recreational and other facilities of Phase-I,by just crossing 2-3 buildings and reaching there.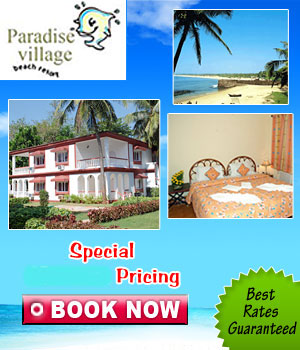 Tariff
Room Rates On Continental Plan
Valid from 1st July to 30th Sept 2010

TYPE OF ROOM / OCCUPANCY

SINGLE OCCUPANCY
(Charges per day)

DOUBLE OCCUPANCY

(Charges per day)

Phase-I
Single Bedroom Apartment
Rs. 1,500/-
Rs. 2,200/-
FAMILY APT.
Phase-I
Double Bedroom Apartments
(For 4 persons)
-----------
Rs.3,300/-
Phase-II
Single Bedroom Apartment
Rs. 1,200/-
Rs. 1,800/-
Resort Address
Kamat Holiday Homes ,
Gaurawaddo, Calangute,
Bardez - Goa.
Tel.: (0832) 2277226 / 27 / 28, 2277009
Fax: (0832) 2276545
Email:
novagoa@bsnl.in
sales@hotelnovagoa.com
http://www.kamatholidayhomes.com