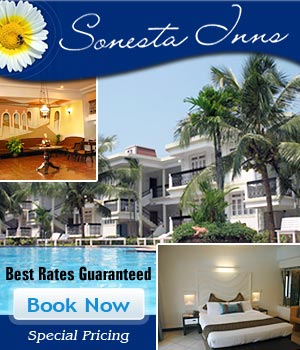 Villa Goesa Beach Resort Hotel in Goa
We are located on the world famous Calangute Baga stretch of beach surrounded by greenery and nature. Our beach resort is 79 room modern establishment built within several acres of prime, sprawling landscapped gardens and palm coves leading right upto the seashore. Our aim is to provide luxury and comfort whilst staying close to nature for the ultimate relaxation and holiday experience.

All the famous bars and restaurants are a short walk away and the location of our resort is such that one does not have to constantly take taxi's but can instead just walk it out by road or via the beach. For the guests intent on going for a customised tour there is an wide assortment available which can be booked at our reception.

Please take a look at our SPECIAL OFFERS section which brings out the hot deals available at the time or at a future date and is constantly updated.
.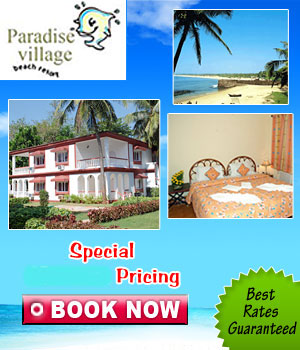 TARIFFS
| TYPE OF ROOM | SEASON 01/10/09-20/12/09 | CHRISTMAS SEASON 21/12/09-27/12/09 | PEAK SEASON 28/12/09 – 02/01/10 | SEASON 03/01/10 -31/03/10 | LOW SEASON 01/04/10-31/05/10 | OFF SEASON 01/06/10-30/09/10 |
| --- | --- | --- | --- | --- | --- | --- |
| Super Deluxe Luxury Suite | KINDLY CONTACT US | KINDLY CONTACT US | KINDLY CONTACT US | KINDLY CONTACT US | KINDLY CONTACT US | KINDLY CONTACT US |
| Extra Person | KINDLY CONTACT US | KINDLY CONTACT US | KINDLY CONTACT US | KINDLY CONTACT US | KINDLY CONTACT US | KINDLY CONTACT US |
| Executive Deluxe A/C | INR 3850 | KINDLY CONTACT US | KINDLY CONTACT US | INR 3850 | INR 3850 | INR 2310 |
| Extra Person | INR 1500 | KINDLY CONTACT US | KINDLY CONTACT US | INR 1500 | INR 1000 | INR 800 |
| Double A/C | INR 2950 | KINDLY CONTACT US | KINDLY CONTACT US | INR 2950 | INR 2950 | INR 1760 |
| Extra Person | INR 1000 | KINDLY CONTACT US | KINDLY CONTACT US | INR 1000 | INR 1000 | INR 600 |
| A/C Suite in Cottage | INR 3850 | KINDLY CONTACT US | KINDLY CONTACT US | INR 3850 | INR 3850 | INR 2310 |
| Extra Person | INR 1500 | KINDLY CONTACT US | KINDLY CONTACT US | INR 1500 | INR 1000 | INR 800 |
| A/C room in Cottage | INR 3250 | KINDLY CONTACT US | KINDLY CONTACT US | INR 3250 | INR 3250 | INR 1980 |
| Extra Person | INR 1500 | KINDLY CONTACT US | KINDLY CONTACT US | INR 1500 | INR 1000 | INR 800 |
| Non A/C Regular | INR 2750 | KINDLY CONTACT US | KINDLY CONTACT US | INR 2750 | INR 2750 | INR 1320 |
| Extra Person | INR 1000 | KINDLY CONTACT US | KINDLY CONTACT US | INR 1000 | INR 700 | INR 400 |

PHONE NUMBERS:
(0091) (832) 2277535
(0091) (832) 2281120
FAX: (0091) (832) 2276182
Our Address: Vila Goesa Beach Resort - Cobrawaddo, Calangute, Goa.
http://www.vilagoesa.com