Established in 1983, Golden Eye is the perfect place to enjoy a tropical holiday. Designed specifically for those wanting the best that Goa can offer, you will find the service and facilities out of this world. With a total of 25 rooms and suites, the hotel has been carefully designed to provide guests with an unsurpassed, intimate holiday experience.

Enjoy all that we have to offer. The extensive sea views from your private balcony, exquisite terraces, a Pub 'N' Seafood Restaurant and friendly Beach Bar are some of the reasons that make you one of the lucky few.

Hotel Golden Goa, one of the most popular Three Star Hotels in Goa is the ideal place to put up in if you want to make your holiday to this exotic destination all the more memorable. Characterized by comfortable accommodation, tasty food and several other facilities and services, this is indeed the perfect sojourn for all seeking respite from dull routine lives.

Accommodation
Indulge yourself in comfort and luxury at the rooms of Hotel Golden Goa. Tastefully furnished and well equipped with all necessary amenities, a stay here is sure to remain etched in your minds forever. If you are interested in a more lavish stay, the suites are definitely a better option.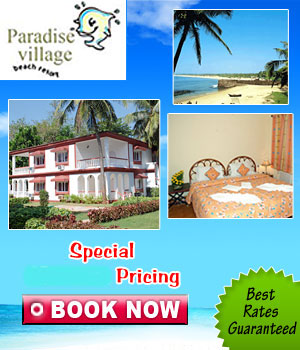 Room Tariff
For the
Period
Standard
Rooms
A/C
Rooms
A/C Deluxe/
Boutique Rooms
15th September to 15th October
Rs.600
Rs.1000
Rs.2000
15th October to 14th December
Rs.800
Rs.1500
Rs.3500
15th December to 15th January
Rs.1500
Rs.2000
Rs.5500
16th January to 31st May
Rs.800
Rs.1500
Rs.3000
Address
Hotel Golden Eye
A1-189, Gauravaddo
Calangute, Bardez
Goa 403516. INDIA
Telefax 0832-3250949
E-mail info@hotelgoldeneye.com
http://www.hotelgoldeneye.com