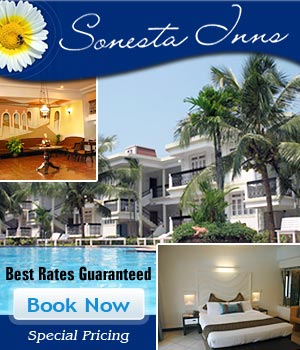 Sodders Renton Manor Hotel in Goa
Sodder's Renton Manor has been build in a Portuguese style, overlooking the swimming pool and the sun bathing area. The coconut trees give the whole area a peaceful and calm atmosphere.

The hotel also has a multi cuisine restaurant. A number of small local restaurants & night spots are within easy walking distance of the hotel. Sodder's Renton Manor is in a quite location yet within easy reach of the action.

Rooms are available with Air-conditioned & without Air-conditioned. Rooms have double or twin beds, dining area with refrigerator (mini bar), telephone, ceiling fan & a balcony or terrace. Attached toilets and showers with 24 hours running hot & cold water. All Air-conditioned rooms come with a satellite television. .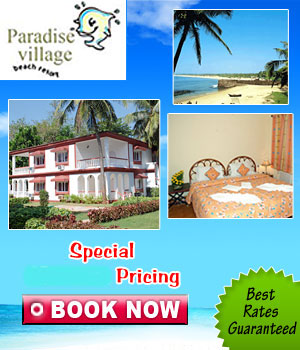 PERIOD

STUDIO (Double) - Indian Rupees / US Dollars per day

Non Airconditioned

Airconditioned

INR

US $

INR

US $

PEAK SEASON (20th Dec - 9th Jan)

2,000/-

46.00

3,000/-


68.00

REGULAR SEASON (1st Oct - 19th Dec)
(10th Jan - 31st Mar)

1,500/-

34.00

2,500/-

57.00

LOW SEASON (1st April - 30th Sept)

1,200/-

27.00

1,500/-

34.00
Ph:- 91 (832) 2276231/ 2276530 (Timings: 9.00 am - 5.00 pm. Indian Standard Time)
Telefax:- 91 (832) 2276231/ 2276530
Email:- reservations@sodder.com, info@sodder.com
Sodder's Renton Manor
Tambudki Village, Arpora,
Bardez, North - Goa.
Ph- 91 832 2279215/16/17
Fax- (0832) 2275727
http://www.sodder.com/renton_manor/