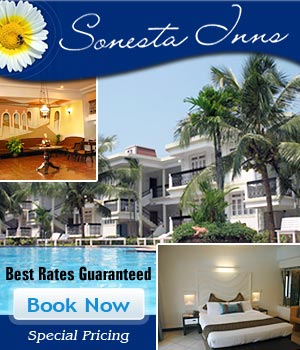 Bollywood Sea Queen Hotel in Goa
Goa is spread out on 105 kms coastline and is known internationally for its beaches. Goa is a house of seafood, and is known for meat and fish delicacies. Goans make port type wines and cashew spirit and they are great music lovers.Bollywood Sea Queen Beach Resort, is a four star facility Resort, with private beach.

It is situated on COLVA beach with silver sands, one of the most popular beaches of Goa. About Us - Bollywood Sea Queen Resort Bollywood Beach resort is 18 kms from Dabolim airport and 8 kms from Margao Railway station and shopping centre.

We have 55 rooms to comfort you with all facilities, with beautiful landscape, lush green garden with palms and coconut trees..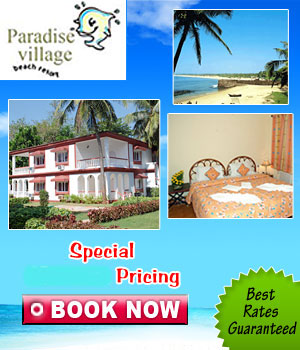 Tariff
*** Tariff for 2009 & 2010 in Indian Rupees (INR)
Catagory Room
1st OCT 09
to
22nd DEC 09
23rd DEC 09
to
6th JAN 10
7th JAN 10
to
31st MAR 10
1st APR 10
to
30th SEP 10
Sea View Suite
6000.00
7000.00
6000.00
4000.00
Suite
6000.00
7000.00
6000.00
4000.00
Super Deluxe
4000.00
4500.00
4000.00
3000.00
Extra Person
700.00
1000.00
700.00
500.00
With the white sands of the Colva beach, the blue Arabian Sea and a private beach, Bollywood Sea Queen Resort awaits your arrival. The proximity to the airport and railway station is an added advantage. The lush green gardens and the surroundings provide visual pleasure. The comfortable rooms and efficient services ensure an enjoyable stay.

The aesthetically designed rooms and suites are spread across the hotel complex. The well appointed rooms are equipped with modern appliances. You can choose to stay in super deluxe rooms, numbering 32 or settle for any one of the 55 other rooms. Alternately you can check into the impeccably decorated suites of the hotel. The suites additionally feature an electric kettle.


Address: Colva Beach, Salcete-Goa
Phone: 91-832-2789040/2789041
Fax: 91-0832-2789042
Email: info@bollywoodhotel.com
Web: http://www.bollywoodhotel.com