Goa's latest beach habitat nestled amidst acres of plush greenery at Fatrade, Goa is "Simply Exotic". At this environment friendly beach house, situated right on the famous South Goa coast, you are ensconced by mother nature on all sides. Far from the maddening crowd, serene and tranquil environs beckon you.Enjoy the DIFFERENCE,

Let your spirit soar into the blue with uninterrupted miles of scenery all around you.JUST laze on the famous Fatrade Beach, Breathe the fresh air, Soak in the sun, sand and Blue Waters.
A home away from home experience, with the charm of hospitality. The rich, warm, cozy, elegant and pleasing interiors of our rooms / cottages / suite will certainly pep up your spirit, liberate your mind and make you think that you are someone special.

All rooms / cottages / suite, tastefully designed are air-conditioned with the luxuries of tea/coffee maker, televisions with satellite channels and modern amenities.
.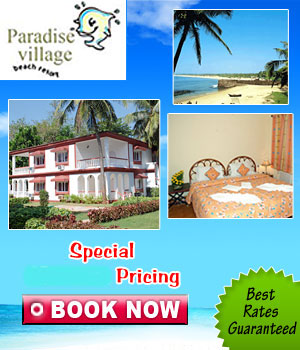 Goa Beach House Summer Package
Valid between: 01st April 2010 and 30th September 2010

PLAN

Rate per Sgl/Dbl
(INR)


Rate per Extra Adult sharing the same room (INR)

Rate per child
(5-12yrs) without extra bed (INR)

Executive Room (INR)

Club Cottage/
Chalet/
Club Premium room (INR)

Club Suite (INR)

Executive Room (INR)

Club Cottage/
Chalet/
Club Premium room (INR)

Club Suite (INR)

Executive Room (INR)

Club Cottage/
Chalet/
Club Premium room (INR)

Club Suite (INR)

CPAI

11999

14999

16999

4799

5999

6799

2399

2999

3399

MAPAI

12999

15999

17999

5199

6399

7199

2599

3199

3599
GOA
Fatrade Beach, Varca Village, Salcete,
Goa - 403 721, INDIA
Phone :
+ 91 832 2744111
+ 91 832 2744112
Mobile : +91 9370275963
Fax : +91 832 2744110
E-mail : sales.gbh@rsma.info
http://www.goabeachhouse.co.in