About Presa di GOA PRESA di GOA (meaning 'Captive of Goa') is a country house restored and furnished in Portuguese colonial style where you can witness the grandeur and opulence of times gone by. A stone's throw away from the endless rice paddies,

PRESA di GOA provides for privacy, romance and true relaxation with only the song of birds, the occasional whistle of the toddy tapper climbing the coconut palms and the honk of the baker on his daily rounds to punctuate the calm..

PRESA di GOA offers 5 exclusive junior suites & 2 deluxe rooms designed in the Indo-Portuguese style & furnished with traditional colonial furniture to give you a true feel of Goan life.

Sink into an armchair or relax in your balcony soaking in the ambience. Beat the heat within our luxurious air conditioned rooms, decorated tastefully & complete with antique four-poster beds, televisions, phones etc. All the rooms enable you to play the role of the Goan landlord 'Bhatkar' with all the comforts just a call away.

If you should venture outdoors the mezzanine pool with its cool aqua waters & lush green settings will greet you and you can watch the serenity of the village unfold, just over our walls. Come, let's share this paradise, where comfort, health & hospitality are paramount.

Live life the Goan way & return rejuvenated, both in mind & body, truly relaxed. Presently, one Heritage Executive Suite and four attached Rooms and Junior Suites with direct view and access to the swimming pool are also under construction and will be available as of the 15th December 2010.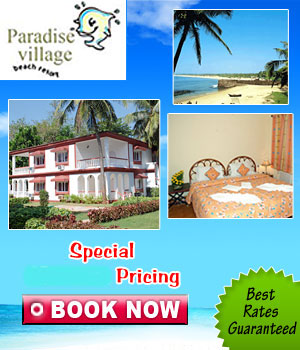 Rates
Rack Rates
Monsoon Season
Autumn Season
Peak Season
High Season
Spring Season
01/07/10 - 30/09/10
01/10/10 - 16/12/10
17/12/10 - 02/01/11
03/01/11 - 28/02/11
01/03/11 - 31/05/11
Single
2000
2200
4500
3000
2000
Double
2350
2750
4500
3600
2850
Ixora Junior Suite (Double)
2850
3300
6000
4200
3350
Champa Junior Suite (Double)
3600
4125
7500
5100
4100
Hibiscus Junior Suite (Twin)
3600
4125
7500
5100
4100
Marigold Junior Suite (Triple)
4350
4950
9000
5900
4850
Crossandra Junior Suite
4850
5390
9000
6600
5350
Address: PRESA di GOA

COUNTRY HOUSE
NAGOA,
353/1, Arais Wado
Calangute, Bardez
Goa 403 517
India

Tel: + 91 (0) 832-2409067 / 8 / 9
Fax: + 91 (0) 832-2409070
E-Mail: reservation@presadigoa.com
Website: www.presadigoa.com