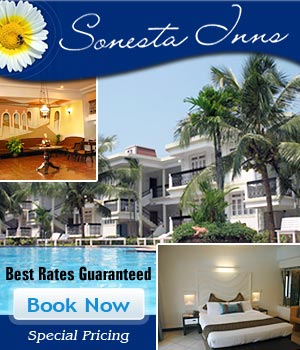 Sanda Hotels / Baywatch Resort Hotel in Goa
Sanda Hotels is a group of Premier hotels in South Goa, which focuses on a complete vacation and wellbeing, for domestic and international guests. We have marked our presence, in the last three years with Baywatch Resort, the Beach resort at Sernabatim Colva, Dudhsagar Spa Resort – the eco and wildlife resort in Mollem, The Beach House –

A wellness retreat on the pristine sands of Sernabatim beach and the New Banjara – a fine dining bar and restaurant in central Margao.

Baywatch Resort, Goa started in February 2007. The beginning of Sanda Hotels in Goa that set itself apart from the rest of the resorts in South. From 2007, we have established in the market, with the domestic and international guests with a loyal group of clientele and we are proud to add up to that list every year.

We look forward to bring in the best of services. Do write in your experiences at sales@baywatchresort.in. The best reviews will be posted on our homepage and win exciting prizes.
Rates applicable on double occupancy for mandatory stay of 3 nights/ 4 days
CP Package (Breakfast)
1st April 2010 to 30th June 2010
Rs. 14299/-
Rs. 13299/-
Rs. 10999/-
1st July 2010 to 31st August 2010
Rs. 13299/-
Rs. 12299/-
Rs. 9499/-
1st September 2010 to 15th October 2010
Rs. 14299/-
Rs. 13299/-
Rs. 10999/-
Extra Adult
*Rs 6500/-
*Rs 5500/-
*Rs 4500/-
Child between 5 years 12 years
*Rs 3250/-
*Rs 2250/-
*Rs 1250/-
* Extra Mattress included
* Supplement for Suite Room: Rs. 1750/- per night
*4th Night on room complimentary basis with 50% discount on buffet meals
Extra Nights: Charged on Pro Rata basis
Address: Sernabatim Beach Road, Colva-Salcette, Goa, Pin Code -403708

Landline : 0832- 6697777 or 6697744
Fax No: 0832-6697799
Contact : 9225907104/ 9225982720/ 9225983060
Email: reservations@baywatchresort.in, sales@baywatchresort.in
http://www.baywatchresort.in