Honeymoon Packages in Goa

Honeymoons are the most special times in a couples lives. It is that single first trip after being married that is going to be your land of bonding while romance blossoms all around you.

And Goa is one such place that gives you the most romantic settings that simply make you surrender your stress and dip into the pleasures of a place that abounds in scenic beauty and a warm culture. If you have decided your honeymoon to be in Goa then make sure you create the most romantic memories.

Here's help on what you can get while choosing your honeymoon package when you go honeymooning in Goa!.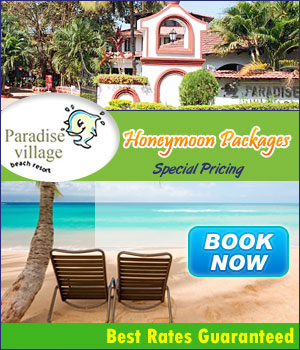 Beach Resorts in Goa

Goa is synonymous with white sand beaches and you can choose from an array of beaches like Calangut,Aguanda, Anjuna, Arrossim, Varca, Baga, Benaulim, Bogmalo,Miramar , Candolim, Colva Dona Paula, Cavelossim, Majorda,Vanguinim,and Palolem. Each beach has a unique identity and a variety of resorts that pamper and spoil you. So much so that, you would want your honeymoon to go on forever.

Look for a good beach resort and plan your days in Goa. Keep a few things in mind. Decide on a budget and accordingly look for a hotel or resort. Beach resorts are a great choice. At Rs 11,900/- you can get a good 3 nights /5 days honeymoon package at a good resort in Goa.

What to expect at a beach resort honeymoon package in this budget

• A welcome drink
• Floral decoration on the bed for the first night
• A bottle of wine, cake and a basket of fruits once in a day
• A late breakfast served in the room daily
• Two bottles of soft drinks
• Two bottles of Mineral water
• Daily use of tea and Coffee maker replenished once during the day
• One alcoholic drink with dinner
• Sightseeing in a comfortable air-conditioned vehicle
• Transport from and to Airport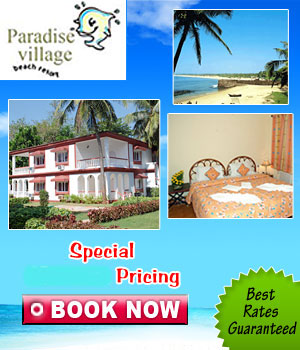 Coco Huts at Palolem beach in Goa – The ideal honeymoon location
This can be the most romantics setting like you were marooned alone on an island. A Palolem beach has a collection quaint little huts built on bamboos right on the beach. A small little cosy hut for the two of you to feel like you are the only ones. Palolem has a number of beach resorts that give you a complete service. It is ideal for the couples who wish to get away from the hustle bustle of commercialised places and just be. There a number of honeymoon packages for this location in Goa that you can choose from.

Hire a Villa

Look for a personal villa and get the feeling of living romantically for a lifetime. A villa gives you the isolation you want from other people. An undisturbed setting that lets you be you. Spend the day your way with no one to shove you around. Get the feel of a Goan life in your villa – your honeymoon haven. Your honeymoon package will be a customised one for this preference.

Go take a walk at the beach or lie down and let the waves come rushing to you. Bite into sumptuous Goan food and make your honeymoon sweeter with local delicacy called Bebinca.

Every beach resort sin Goa serves a honeymoon package and you can pick the one that suits your budget. You can get the Taj Village or a local beach resort that can keep you comfy. It's just a matter of choice. However do remember that your honeymoon is a once in a lifetime experience so make it special by picking the best and let your wedding affair begin