Palmarinha, derived from a Portuguese word meaning "Swaying Palms" is an ideal location for an incredible holiday in Goa.

The facilities include air-conditioned, spacious rooms, one or two bedroom suites with kitchenette and lounge, three swimming pools, fitness centre, spa , business and conference services.

Enjoy authentic Goan or excellent multi-cusine at "The Palm" Restaurant.

We invite you , to experience our exceptional services as you enjoy yourself at Palmarinha Resort and Suites in Goa - India.

All our Bedrooms are Air-conditioned with a good view. The Resort has an inventroy of eighty Deluxe Rooms in addition of thirty six one Bedroom Suites and eighteen two Bedroom service Apartments. Both the Suite types also consist of lounge areas, kitchenettes and private balcony's.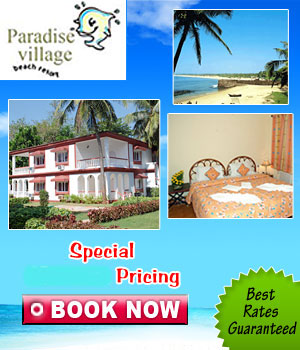 PERIOD
ROOMS
Deluxe
(Sleeps 2)
1 BR-SUITE
(Sleeps 2)
2 BR-SUITE
Service Apts.
(Sleep 4)
(Extra Pax)
INR
INR
INR
INR
01st Apr - 31st May
2,250
2,850
3,850
600
01st Jun to 30th Sep
1,850
2,350
3,350
500
01st Oct - 22nd Dec
2,650
3,250
4,250
750
23rd Dec - 2nd Jan
6,500
7,500
9,500
2000
03rd Jan - 31st Mar
2,850
3,650
4,850
750

Palmarinha Resort — Porbvaddo, Calangute, Bardez, Goa, INDIA.
Tel: +91 832 2275058/59/60
Fax: +91 832 2279541
Mob: +91 9922966030/32